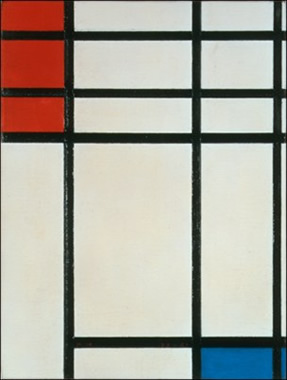 In 1942 Mondrian began work on what would be his last two canvases, Broadway Boogie Woogie and the unfinished Victory Boogie Woogie. These two large square paintings, the latter hung like a diamond, absorbed all Mondrian's energy as he worked to break the long coloured lines of New York City into a dazzling mosaic of coloured blocks.
Broadway Boogie Woogie was intended to be a musically shimmering tapestry of colour and particles. His style had always been clear and had always stood for geometric form and in these last paintings he continued to employ bright coloured grids with coloured lines.
However this painting did not satisfy him and the follow up painting Victory Boogie Woogie goes even further than Broadway Boogie Woogie did. The forms become dissolved to the point where the lines and planes are virtually indistinguishable. In this colour photograph of Victory Boogie Woogie taken in Mondrian's studio, the coloured blocks seem to break free of the grid structure and flow onto the wall itself, as if Mondrian had finally burst the pod of painting and spread its seeds into a new world. The painting was probably named in anticipation at the end of the Second World War and would have been a great personal victory over the traditional forms of European painting.