De Stijl: 1917
In 1917, under the leadership of Theo van Doesburg, Mondrian and the circle of artists and designers, formed a group and began to publish a magazine called De Stijl (The Style), to which Mondrian contributed frequently until 1924. His aesthetic became the guiding force of the movement, which embraced architecture, furniture design, typography, and many other fields. The international De Stijl artists were committed to purifying modern art and bringing it into daily life.
Van Doesburg, using Mondrian's ideas, proposed that in art "nature and intellect, or the feminine and masculine principle, the negative and the positive, the static and the dynamic, the horizontal and the vertical" should be brought into equilibrium.
The group that Mondrian and van Doesburg had formed published many ideas in the magazine De Stijl, covering not just art and theory, but architecture, design and furniture. Mondrian did not contribute designs for architecture however; he became arguably the most important theorist of the circle. His writings for De Stijl contained a whole range of ideas to try and describe or explain mankind's psyche and profoundest desires.
During these years, Mondrian and van Doesburg agreed that the new style had to be allied to a new and equally radical architectural style. Clear colour combinations and simple white structural elements took the place of the old and claustrophobic 19th Century ideals.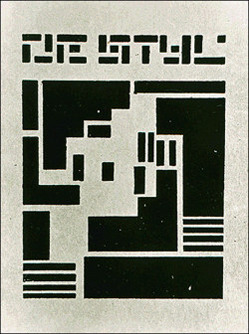 The new architectural style was going to be used as a justification of the formless avant-garde art form. They reasoned that if the buildings were formless, then so too could be the art.